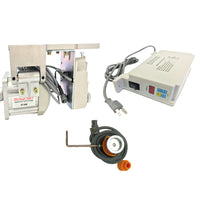 NT-700 (550W / 4500RPM) NT-700 SEWING MACHINE SERVO MOTOR
DESCRIPTION:
These Servo Motors work great with industrial sewing machines available with or without a needle position option.
needle position sold separately.

Features and Setting:


-550W / 4500RPM

NITRON

 

NT-550W

 

Brushless Electric Servo Motor is designed for industrial sewing machines.
Voltage: 110V / 220V , 50/ 60Hz.
Power: 550W.
Horsepower: 3/4 HP.
Torque: 4NM. Speed: 500-4500 RPM.
Easily replaces outdated clutch motors.

 

ADJUSTABLE SPEED - Easily adjust motor speed by using the built-in adjustable speed-control knob.
ENERGY EFFICIENT – The

 

NT-550W

 

replaces a regular clutch motor which can save you up to 70% of your electric use when compared to an equivalent power clutch motor.
NOISELESS - Smooth and quiet operation makes this NT-550Wservo motor virtually noiseless. The motor is noiseless and vibration-less when in standby mode
APPLICATION - The brush-less servo motor works great with heavy-duty sewing machines. Broad application, including high or low-speed industrial light to heavy-duty work including straight stitch machines, overlocks, zigzag stitching machines, blind stitch machines, heavy-duty walking foot, and heavy-duty upholstery machines.
Uses the same mounting holes as a standard clutch motor.
No clutch or brake disk is required can turn the machine hand-wheel easily to position the needle.