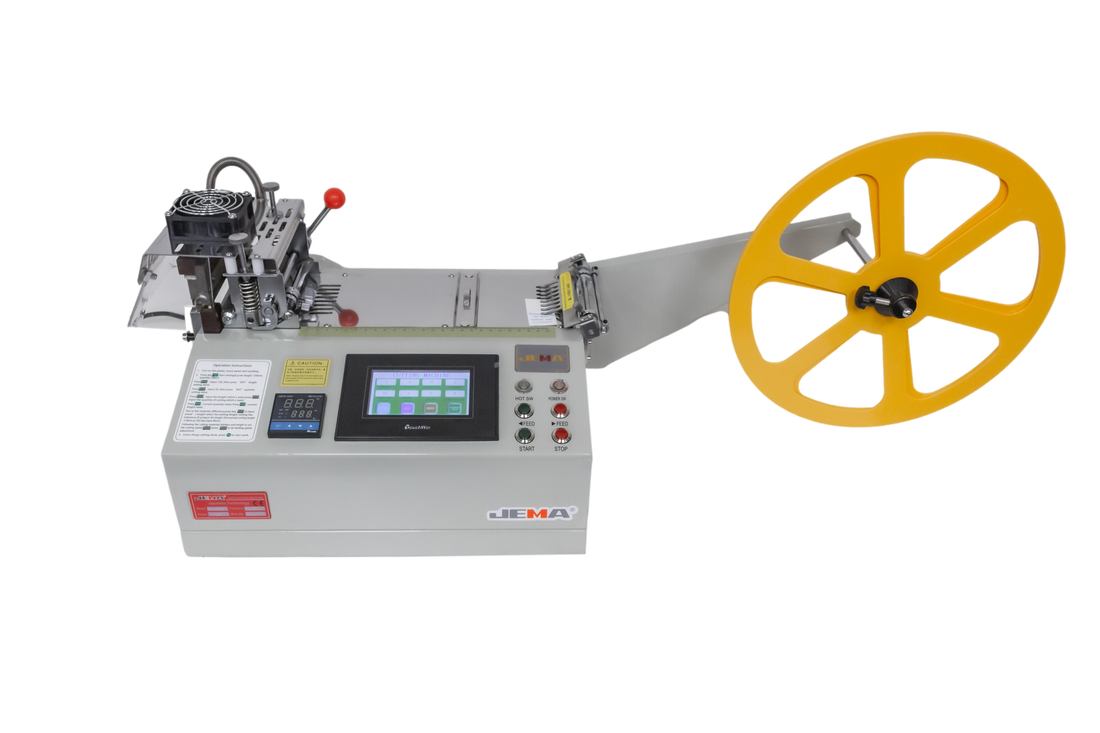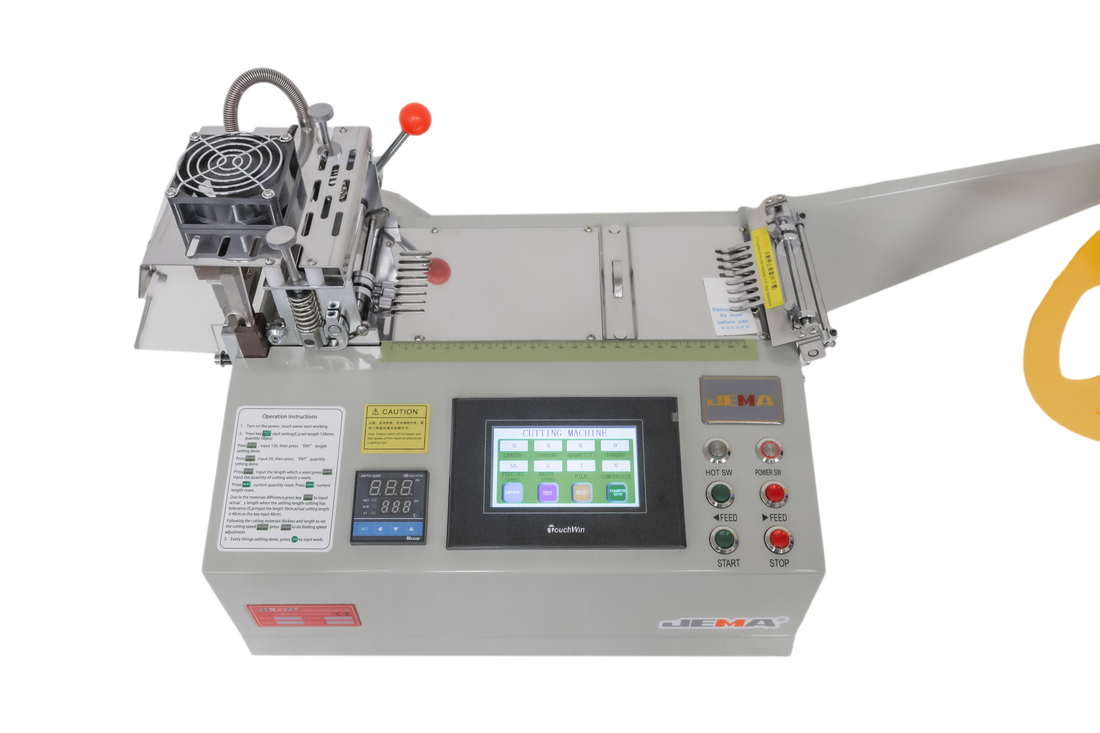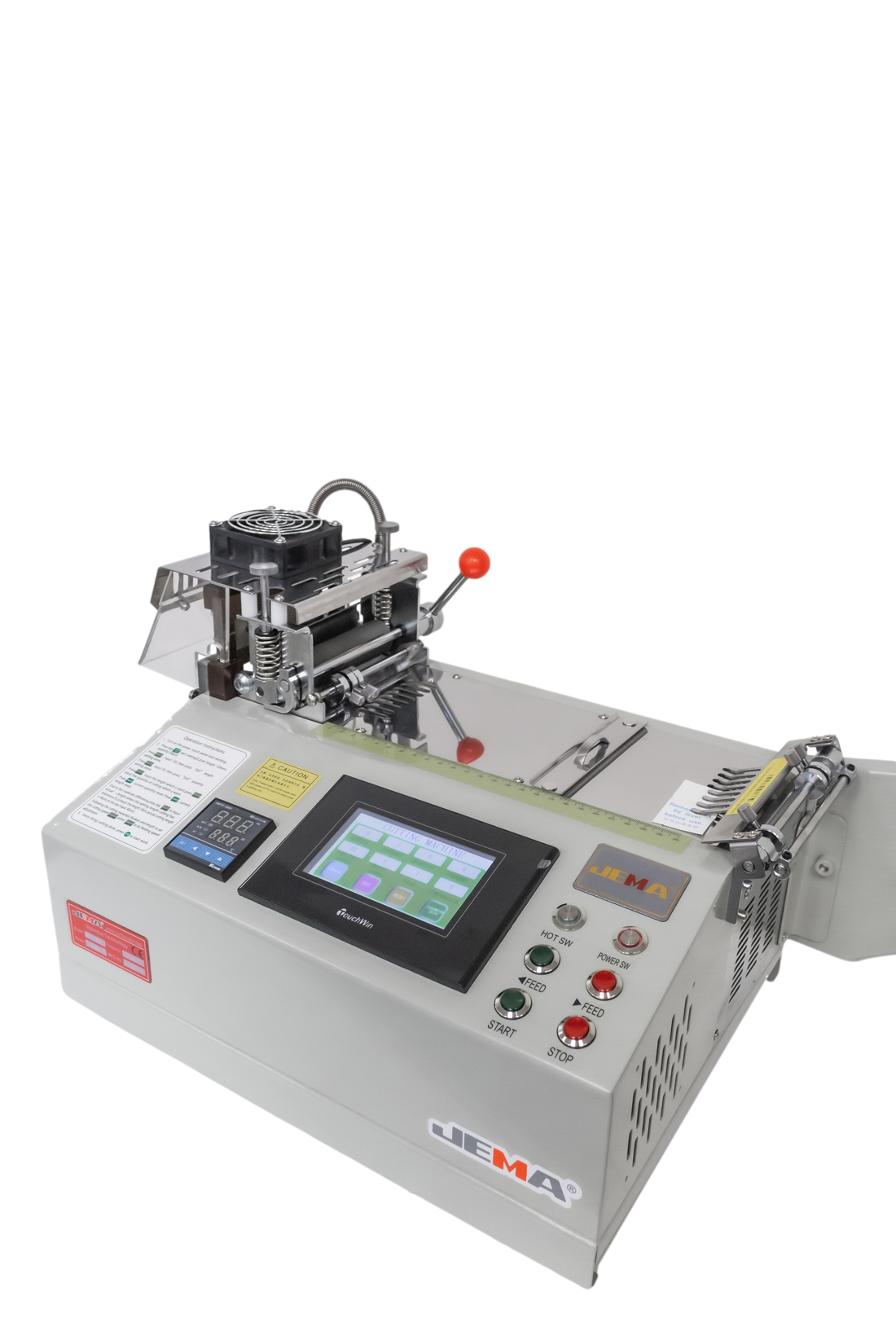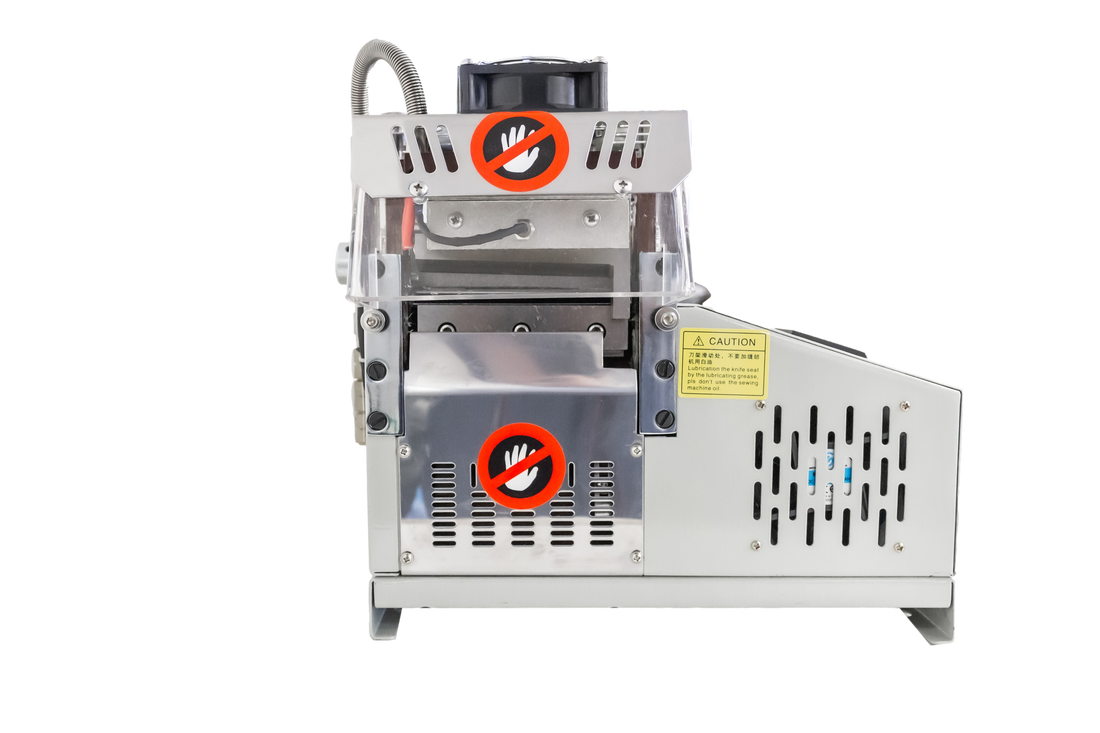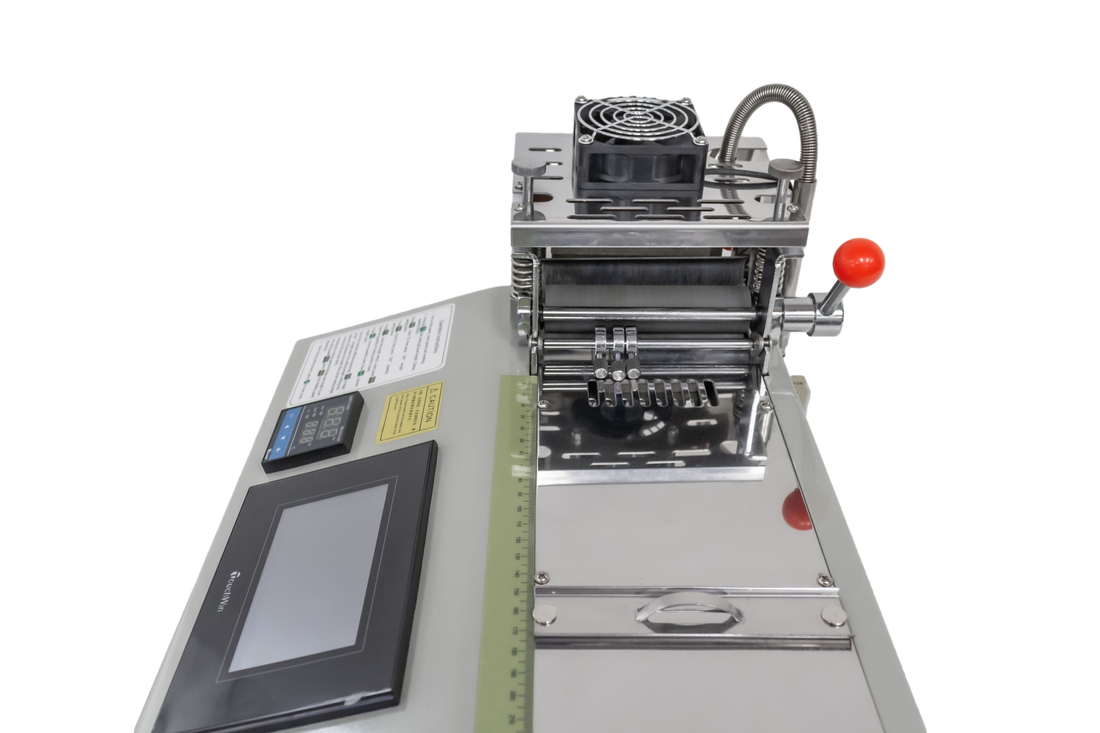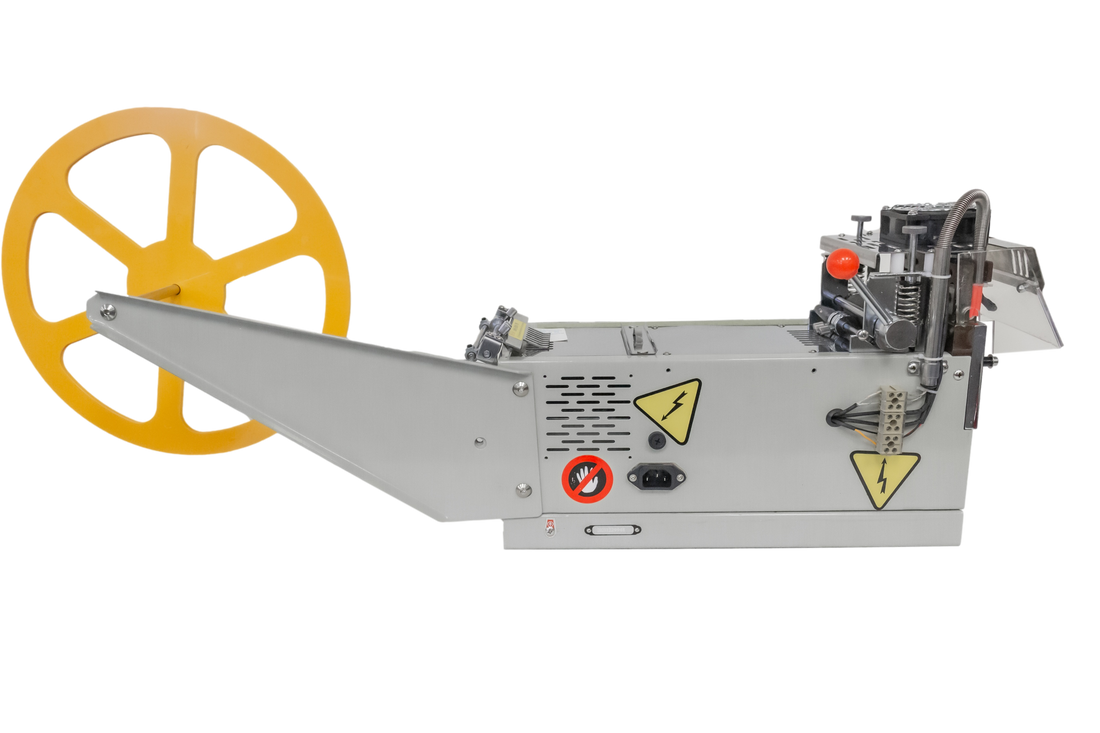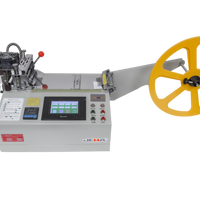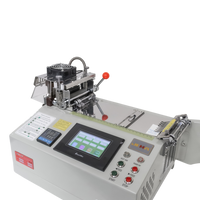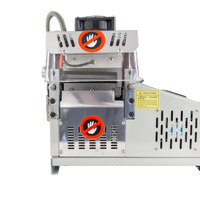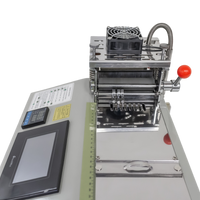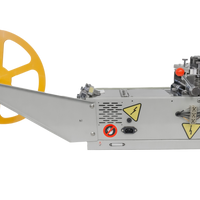 JM-120ELH NEW GENERATION ELECTRONIC HOT & COLD CUTTING MACHINE
The multi-function auto-cutting machine is a new special integrating pneumatic, mechanical and electrical controls, which can control the mechanical and cylinder actions automatically through the computer program and automatically cut off the belt-shaped objects such as woven belts, plastic hose, shoelaces, trademarks at different widths, lengths and angles according to the length and quantity required. The precision of your products will be higher thanks to the compensation function designed according to the elasticity of the materials to be cut. Options: (the infrared positioning device: trademarks of different widths can be cut off accurately through positioning by the infrared sensor system). With the function of automatic stopping when there is no material and features of cutting of thick materials, high precision, high cutting speed, flat cut surface free of burr, cutting of nylon materials without loose yearns, simple operations, etc. This machine is the first choice to help you to increase production efficiency, improve product quality and save labor costs.
SPECIAL FEATURES: 
HIGH SPEED: IT CAN CUT 100-120 PCS PER MINUTE (50MM LONG)
ACCURACY: ADOPT HIGH-ACCURACY STEPPING MOTOR DRIVE
CUTTING TYPE: MELTING AND CUTTING BY HOT KNIFE, WOVEN LABEL IS CUT NEATLY WITHOUT FRAYING BUT NOT FOR HEAVY MATERIALS AND INSTALLED WITH AN ANTI-STATIC ELECTRICITY DEVICE.
CUTTING TIMES: IT CAN SET QUANTITY CUTTING TIMES TO ACHIEVE GOOD QUALITY CUT 
CUTTER SPEED: IT CAN SET THE CUTTER SPEED FOR SOME THICK AND STRONG MATERIALS TO ACHIEVE CUTTING EFFECTIVE 
TOUCH PANEL CONTROL SYSTEM: ADOPT PLC SYSTEM, MULTILINGUAL CONVERSION BY THE TOUCH PANEL THE PAGE OF FUNCTION IS INTUITIVE AND EASY OPERATE SETTING IS CONVENIENT.
COMPENSATION: AFTER THE ACTUAL LENGTH DATA IS INPUTTED, ACCURATELY CUT OUT THE LENGTH TO MEET THE SYSTEM SETTINGS 
FAULT SELF-CHECKING: CUTTING SENSOR ERROR, NO SUPPLY, THE ERROR CODE WILL SHOW ON THE SYSTEM PANEL DIRECTLY IF THE FAULT HAPPENED
AUTOMATIC OPERATION: AUTOMATIC STOPPER: IT WORKS AUTOMATICALLY ONLY BY SETTING SPEED-LENGTH QUANTITY AND TEMPERATURE IT STOPS AUTOMATICALLY IF MATERIALS RUN OUT DURING OPERATION.
APPLICATIONS: BELT LOOP, BAG BAND, SHRINK TUBE, STRING, ELASTIC BAND, PLASTIC ZIPPER ETC.
| | | | | | | | | | | |
| --- | --- | --- | --- | --- | --- | --- | --- | --- | --- | --- |
| MODEL  | CUTTING LENGTH(MM) | CUTTING SPEED(P/MIN) | MAX CUTTING WIDTH (MM) | MAX BLADE TEMP(C) | VOLTAGE (V) | POWER (KW) | WEIGHT(KG) | STAND PACKAGE SIZE (L.W.H) | |   |
| JM-120ELH | 10-99999 | 100-120 | 95 | 350 | 110/220 | 0.7 | 24/29 | 560X420X405 | | |